Burberry is a brand that is synonymous with luxury, quality, and style. And it's a brand with a fair share of iconic moments throughout history. Let's take a look back at the most impactful moments in Burberry's history.
Founded in 1856 by Thomas Burberry, the company has a long history of creating beautiful clothing and accessories that are loved by celebrities and fashionistas alike. Here are five iconic Burberry moments in pop culture history:
In 2004, Kate Moss graced the cover of Vogue UK wearing a Burberry trench coat.
The image was taken by famed photographer Mario Testino and quickly became one of the most iconic fashion images of the 2000s. The image cemented Moss as a fashion icon and helped to further solidify Burberry as a luxury fashion brand. Moss has been photographed in a variety of different looks over the years, but she always seems to look effortlessly chic in a trench coat. Whether she's wearing it with jeans and a t-shirt or a cocktail dress, Moss knows how to make the trench coat work for her. It's no wonder that Burberry chose her to be the face of their brand – she perfectly embodies their classic yet modern aesthetic. While the image of Moss on the cover of Vogue UK is undoubtedly memorable, it's also significant because it marked a shift in British fashion. Up until that point, London had been known for its edgy and avant-garde style, but this image showed that there was more to British fashion than just punk rock and grunge. The clean lines and simple silhouette of the trench coat represented a new era of British fashion – one that was sleek, polished, and refined. This particular image of Kate Moss has come to symbolize an entire decade of fashion. It represents both London's traditional style sensibility as well as its more modern approach to dressing. And above all else, it shows us that sometimes less really is more when it comes to looking chic.
Burberry is a brand that is synonymous with classic British style, and their suits are no exception.
When Daniel Craig was cast as the new James Bond in Casino Royale, he chose to wear a tailored Burberry suit for his character's iconic introduction scene. The sharp lines and sleek silhouette of the suit perfectly conveyed the sophistication and elegance of 007, and helped to cement Craig as one of the most stylish actors in Hollywood. While the suit may have been traditional in its cut, the fabric was anything but ordinary. The fine woolen cloth was woven with a distinctive herringbone pattern, giving it texture and depth that set it apart from other suits on screen. This attention to detail helped to make Craig's Bond look like a million bucks – literally! According to costume designer Lindy Hemming, the suit cost around $10,000 USD to make. Despite its hefty price tag, the Burberry suit proved to be worth every penny. Not only did it help Craig look the part of a suave spy, but it also became one of the most iconic looks in recent cinematic history. From its debut on screen in 2006 to its reappearance in Skyfall (2012) and Spectre (2015), the Burberry suit has become synonymous with James Bond himself.
Burberry's 2009 collaboration with acclaimed British musician Lily Allen was a capsule collection called "From Britain With Love".
The collection featured clothing and accessories inspired by the British countryside, including a quilted jacket, a sheepskin coat, and a pair of Wellington boots. The collection was available for purchase online and in select Burberry stores.
One of Burberry's most famous campaigns starred none other than supermodel Cara Delevingne.
The British model and actress looked stunning in the fall/winter 2014 campaign, which was shot by famed photographer Mario Testino. The collection itself is full of rich colors and textures, and Cara looks amazing in every single shot. She brings an undeniable energy to the images, which perfectly embodies the Burberry spirit. This isn't the first time that Cara has worked with the brand – she also starred in their spring/summer 2014 campaign. And it's clear that she has a great relationship with both the designers and the team behind the camera. She seems genuinely happy to be a part of the process, and that comes across in her work. It's no wonder that Burberry keeps coming back to her – she simply exudes coolness, confidence, and style. We can't wait to see what she does next for the brand!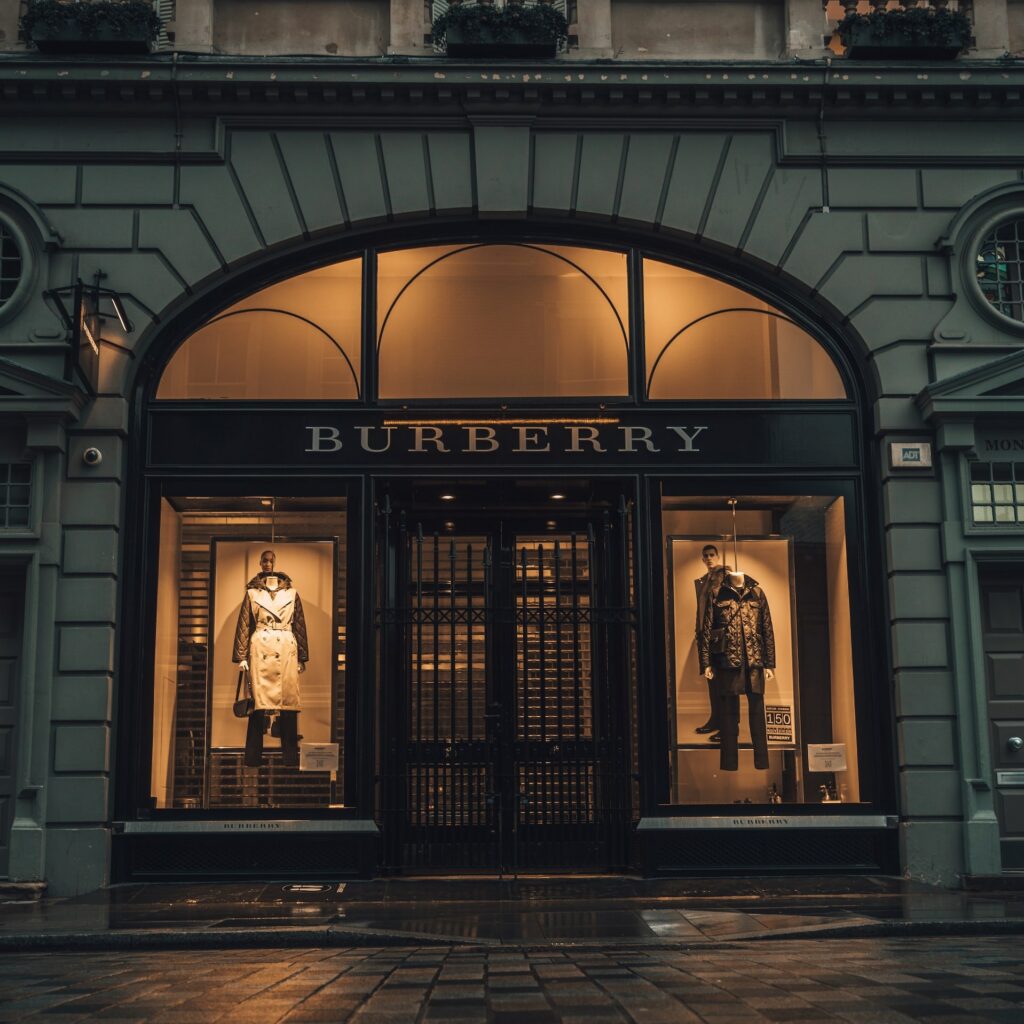 In 2018, actor Matt Smith caused quite a stir when he wore a bright pink dress from the Burberry SS18 collection to meet Prince Charles at Buckingham Palace (he was there to receive his OBE).
It was an unexpected choice but Smith pulled it off with panache, further cementing his status as one of Hollywood's most stylish men
We hope to see Burberry continue to push the boundaries of fashion. They strongly impact the way our industry movies and the direction of our designers and models!